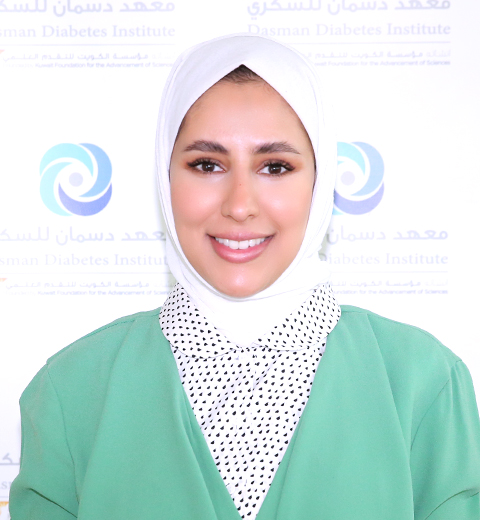 Dr. Ghaneemah Alfaleh
Dr. Ghaneemah Alfaleh is experiences clinical dietitian at Dasman Diabetes institute with experience in Outpatient Nutrition Clinic Since 2010. She completed her BSc in Nutrition from KU with high honor and has won his highness the Amir Gold medal for it.
Dr. Ghaneemah then Joined Florida International University (USA) for her master and Ph.D. in Dietetics and Nutrition. Her research interests include nutrition education, pediatrics obesity prevention, and Diabetes nutrition.
Dr. Ghaneemah also has been teaching Nutrition in The Public Authority for Applied Education and Training.
Fatima Ismail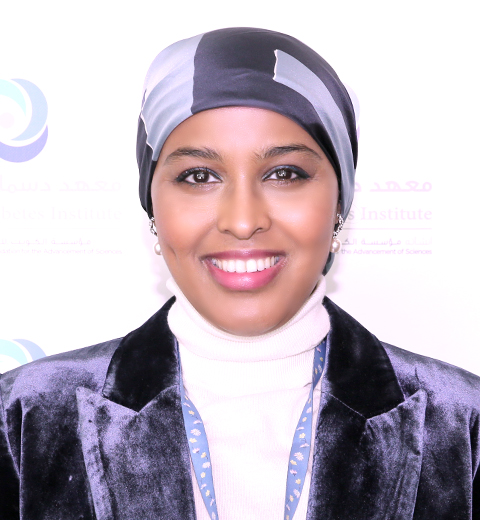 Fatima is an experienced clinical dietitian with a bachelor's degree in Human Nutrition from Qatar University and a master's degree in Diabetes Care and Management from the University of Dundee. She is skilled in diabetes education, nutrition education, and clinical research in multiple live and virtual settings. Fatima's current area of interest and specialty lies in supporting children and adolescents with diabetes to improve their relationship with food.
Along with her work at the pediatric nutrition clinic, she is a dietitian lead in Kids In Control OF Food program (KICk-OFF) course. This structured education program is tailored for children and adolescents with type 1 diabetes aged between 11-16 years. Fatima also delivers ongoing education and training programs related to nutrition and diabetes management for healthcare providers, to enhance awareness about diabetes and the impact of healthy nutrition.
Her mission is to continually support my patients to reach their nutrition goals by providing evidence-based dietary care.
Durra Al Sumaiti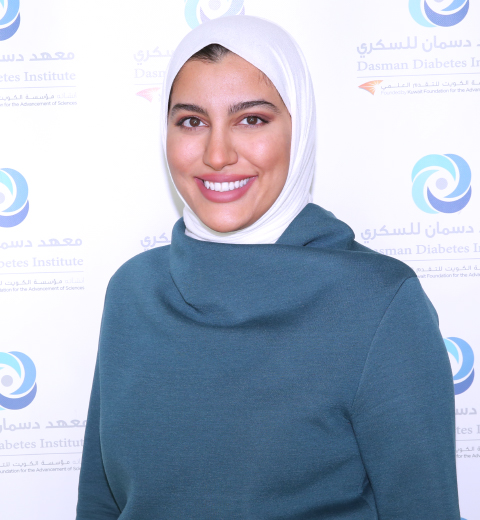 Durra from Penn State University with a Bachelor of Science in Nutrition and Dietetics and she completed a combined Master's and dietetic internship at Boston University. Durra then joined Dasman Diabetes Institute (DDI) and have been working as an adult outpatient clinical dietitian.
Her interests lie in medical nutrition therapy, health promotion and disease prevention. As a registered dietitian and trained CounterWeight Plus specialist, she holds the nutrition and remission clinics at DDI to help people achieve their health goals and reach diabetes remission, respectively. She loves nutrition, food, and the science behind it and enjoy sharing my passion and expertise to the community.
Reem Almatrook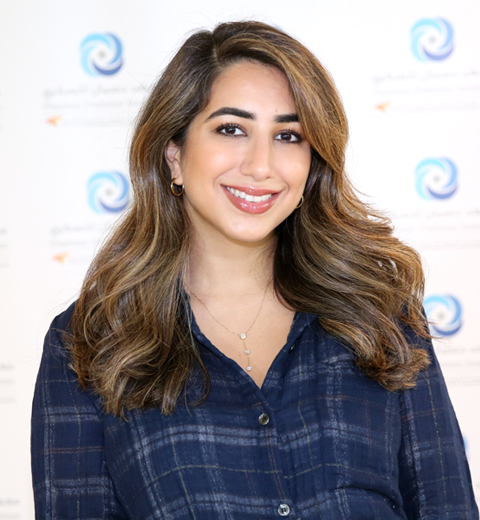 Reem began working at DDI after completing a Bachelor's (University of Reading) and a Master's degree (University College London) in Clinical Nutrition.
She has always been fascinated by the science behind the relationship between nutrition and overall health. Her expertise allows me to provide medical nutrition therapy, teach advanced carb counting, deliver diabetes education, and present educational courses for patients of all ages. To her, the most rewarding part of her work is providing patients with the tools to manage their health challenges and witnessing the resulting positive health outcomes. 
Najeeba Almatrouk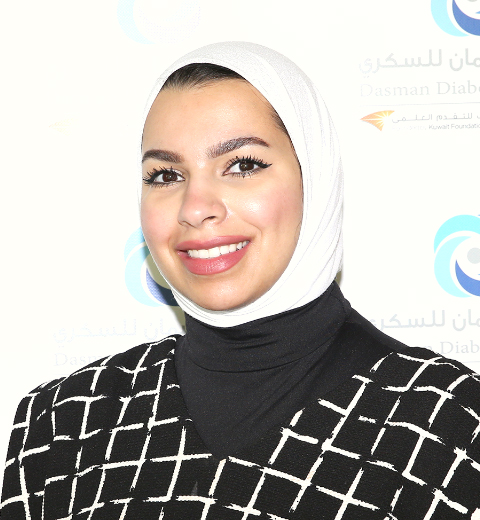 After graduating from Colorado State University (B.S. in Nutrition and Food Science with a Concentration in Dietetics and Nutrition Management), Najeeba began her career working at DDI in 2014 where she spent many years developing my clinical expertise and specializing primarily as a diabetes dietitian.
Najeeba has worked with a vast array of diabetes patients of all ages and has a wide range of experience from nutrition consultations, cooking classes, in-house and outreach events as well as evidence-based diabetes research. When it comes to nutrition, Najeeba believes that Medical Nutrition Therapy is a key component of diabetes education and management. Furthermore, she loves spending time in the kitchen discovering tasty, simple and nourishing recipes and enjoys sharing them with her patients.