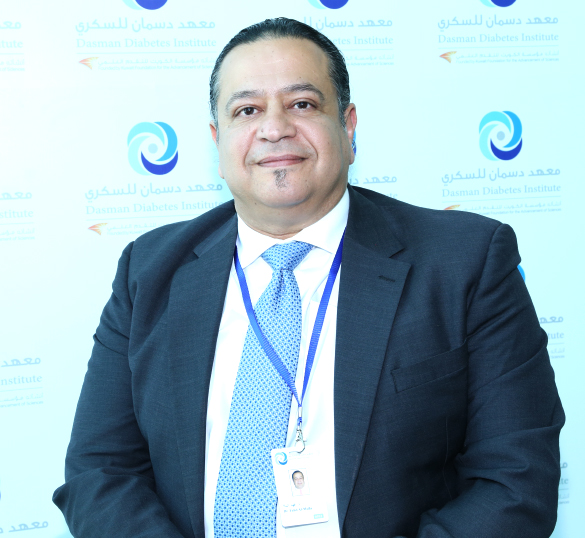 Prof. Fahd Al-Mulla is the Chief Scientific Officer and Heads the Department of Genetics and Bioinformatics at Dasman Diabetes Institute, a Professor of Molecular Pathology and Genomic medicine at Kuwait University. Prof Al-Mulla received his medical License and PhD from Glasgow University. He is a Fellow of the Royal College of Physicians Of Edinburgh. Prof Al-Mulla's Research activities focus on cancer and Diabetes, he has pioneered the use of next generation sequencing and microarrays in diagnostics and Precision Medicine. He has extensive experience in Genomic related technologies and intellectual property development. He currently holds 6 patents related to Diabetes, wound healing and cancer. Prof Al-Mulla serves as a chair of the Evidence group in the Global Genomic Medicine Collaborative and of the International Confederation of Countries Advisory Council of the Human Variome.
In 1993, Prof Al-Mulla graduated in Medicine from Glasgow University. He graduated with a PhD in 1999, studying the molecular basis of colorectal cancer metastasis supervised by the late Professor George Burnie.
Prof Al-Mulla established 2 laboratories at Kuwait University, a large research core facility that serves about 600 academics, students and researchers and the latter is a molecular diagnostic laboratory that he heads. His research led to the identification of two novel metastasis suppressor genes, namely Carbonyl Reductase and Raf Kinase inhibitory Proteins, which he and his team characterized further and their therapeutic roles in cancer patented. In recent years Prof Al-Mulla's research focused more intensely on wound healing and angiogenesis defects in a genetic rat model of type-2 diabetes mellitus. He and his colleagues were not only able to ameliorate insulin resistance in these rat models, but also precisely dissect the the precise molecular defects predisposing the animals to diabetes.
Prof Al-Mulla spearheads an ambitious project to whole genome sequence thousands odd individuals from Kuwait. He currently established a database of individuals who were whole genome or exome sequenced with variety of aliments including cancer, multiple sclerosis and normal individuals. These data are of exceptional value for understanding population specific variants and distinguishing them from pathogenic variants.
Prof Al-Mulla serves as a chair of the Evidence group in the Global Genomic Medicine Collaborative and served as a chair of the international confederation of countries Advisory Council of the Human Variome. His ResearchGate and Orchid scores are higher than 97.5% of researchers world wide. Prof Al-Mulla is a highly cited researcher. He is also a keen blogger, Nature Biotechnology blog- The Bioentrepreneur blog, Trade Secrets, boasts contributors from around the globe, providing regular insight and commentary from those helping build the world's biotechnology sector. He also attained six patents over the course of his career thus far, with more anticipated in the years to come.
Awards and Achievements
International Scientist of the year award by The International Biographical Center Cambridge for his contribution to Molecular Genetics of Cancer.
Abstract won the distinguished National Academy of Clinical Biochemistry award in San Diego, U.S.A.
Received the prestigious Kuwait Foundation For The Advancement Of Sciences Scientific production Prize in the 2015