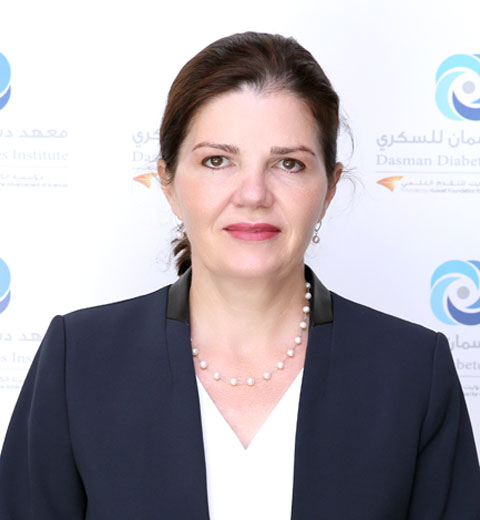 Sabina started her nursing career in 1985, in the Obstetrics and Gynaecology Clinical Hospital Dr. Salvator Vuia, Preterm ICU, Arad, Romania until 1992. In this year she moved to Kuwait to work at Al- Amiri hospital in the Paediatric ward, and from 1997 moved to the Endoscopy unit of Thunayan Al Ghanim Gastroenterology Centre. In 2002 she joined Royale Hayat Hosptial rising to Acting Head of Paediatrics and she contributed to the setting up of the department whilst still working in the Obstetrics and Cosmetic surgery department. Since 2008 she has been working in Dasman Diabetes Institute and is currently the Senior Specialist Nurse.
Sabina trained as a Registered Nurse initially Graduating with Diploma in Nursing in 1985 and going onto gain a Bachelor of Science in Nursing (BSN 1992) from the Nursing School Arad, Romania. She went on to complete a MSc in Diabetes Care, Education and Management (University of Dundee, Scotland, UK 2019)
She is dedicated to continuously improving the quality of patient care as well as the skills and knowledge of our Nursing team.