Preterm Births have sex-specific effects on Pancreatic development and function
Published on 03/05/2023
Preterm birth is defined as any birth that occurs before 37 weeks of gestation or in less than 259 days. In addition to contributing to mortality, preterm birth has long-term consequences, including an increased risk of chronic disease in adulthood. Preterm birth is associated with impaired glucose homeostasis, decreased insulin secretion, insulin resistance, and hyperglycemia, as well as an increased risk of T2D later in life.
Branched-chain amino acids (BCAA) made of leucine, isoleucine, and valine are vital nutrients for organ development. Since nutritional supplements are often given to preterm babies to promote growth and development, Dr. Shaima Albeloushi hypothesized that postnatal BCAA supplementation could affect pancreatic development and function. Accordingly, she tested this hypothesis in preterm-born lambs.
Dr. Shaima Albeloushi worked on a project in Auckland University where preterm-born lambs (137 days of gestation, term = 147 days) were randomized into three different groups to either receive daily oral supplements containing BCAA, calorie-equivalent maltodextrin, or volume-equivalent water for two weeks after birth. Term-control lambs received volume-equivalent water.
At 12 months of age, a hyperglycemic clamp with an arginine challenge was performed to assess insulin secretion and sensitivity. At post-mortem, pancreatic tissues were collected, and islet number and composition were measured using immunohistochemistry.
Maltodextrin-fed males had a higher basal glucose concentration during the hyperglycemic clamp test than maltodextrin-fed females. BCAA-fed males had a higher insulin-to-glucose ratio than BCAA-fed females, term-females, and maltodextrin-fed females.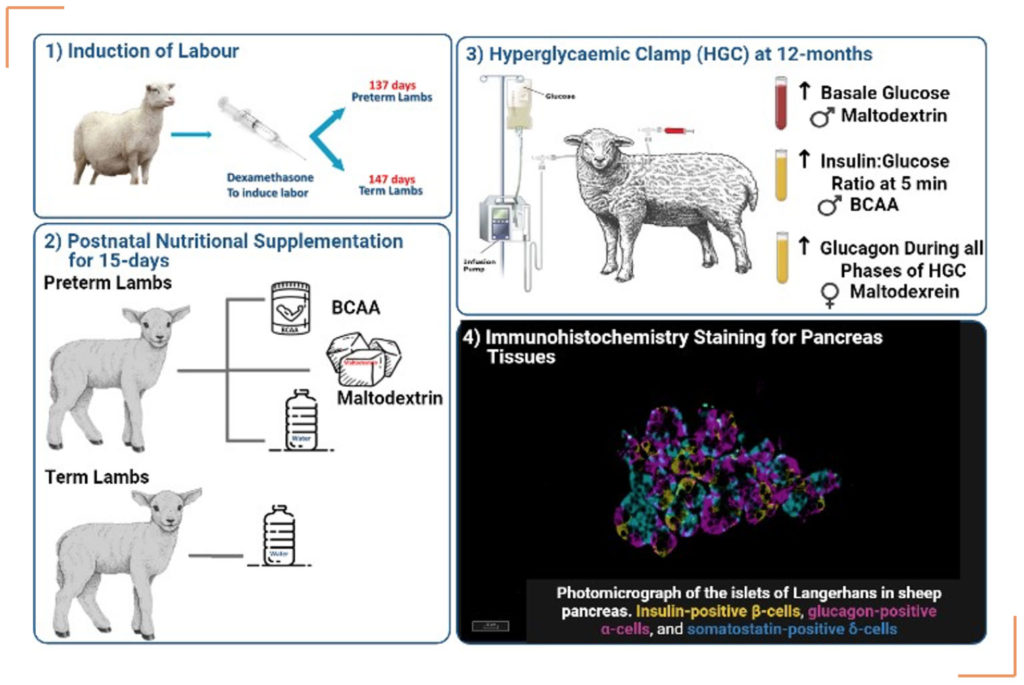 Maltodextrin-fed females had the highest glucagon concentration during all clamp phases. There was no difference among the groups or sexes in insulin-positive area, β-cell number, glucagon-positive area, α-cell number, somatostatin-positive area, δ-cell number, and islet area and number. β-cell mass, α-cell mass, δ-cell mass, and islet mass were higher in males than females. These results confirm that targeted nutritional manipulations and preterm births have sex-specific effects on pancreatic development and function.