DDI Researchers found that Verapamil has Cytoprotective effects on Pancreatic Beta-Cella
Published on 03/05/2023
Verapamil is a calcium channel blocker that is commonly used to treat hypertension, angina, and certain heart rhythm disorders. In this study, Dr. Fahd Al-Mulla and his team investigated the use of verapamil on pancreatic β-cells. When exposed to stimuli that mimicked type 1 (T1D) or type 2 diabetes (T2D), verapamil demonstrated cytoprotective effects. However, the mechanisms targeted by verapamil are not well-explored. Dr. Hossein Arefanian and his colleagues used the MIN6 cell line and zebrafish models to evaluate the molecular and cellular processes of verapamil therapy on -cell function and survival. The molecular processes of verapamil were evaluated by transcriptomic and proteomic analyses. The data was further validated by MTT assay, cell count, and flow cytometry to assess cell proliferation, growth, and cycle. MIN6 cell function was assessed by examining glucose-stimulated insulin release, total insulin content, and metabolic flux analysis. To evaluate the protective effect of verapamil, MIN6 cells were treated with streptozotocin or inflammatory cytokine cocktails mimicking T1D and T2D in vitro models.
Furthermore, the zebrafish larvae model was used to assess the effect of verapamil pretreatment on metronidazole insults. The findings showed that verapamil treatment altered the expression of various proteins and genes associated with β-cell proliferation, survival, and resistance to different conditions. Remarkably, cytoprotection was functional and associated with increased basal and maximum respiration in β-cells. In the zebrafish model, verapamil demonstrated a protective effect on, and significant recovery of, pancreatic β-cells.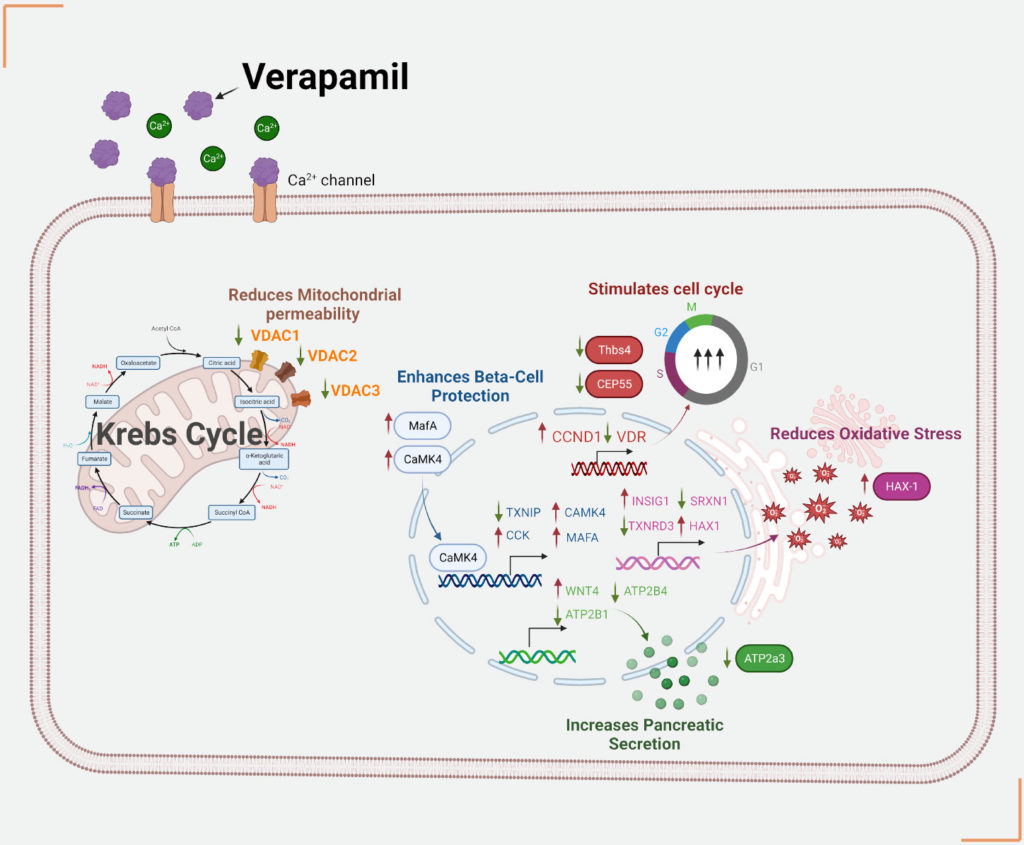 Taken together, these findings demonstrate that verapamil is a β-cell cytoprotective molecule, under conditions mimicking T1D and T2D. Pretreatment with verapamil offers higher protection through increased levels of proliferation, glucose sensing, and oxidative respiration. This research sheds light on the possible use of verapamil as a therapeutic agent for diabetic treatment.
This work has been submitted to a high impact factor journal.