Meet the Scientist – Dr. Nermeen
Published on 03/07/2023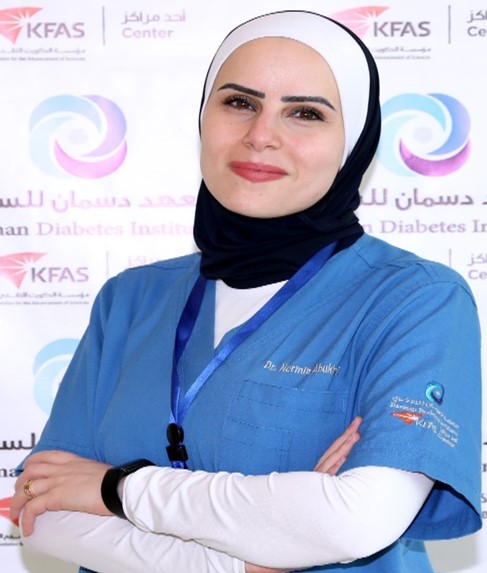 DR. NERMEEN ABUKHALAF
Meet the scientists behind DDI's research
DR. NERMEEN ABUKHALAF is a Doctor of Veterinary Medicine and Surgery who obtained her degree from the College of Veterinary Medicine at Jordan University of Science & Technology. Prior to joining DDI in 2014, Dr. Nermeen completed several internships in Jordan, which provided her with valuable hands-on experience in veterinary medicine and surgery. Currently, she serves as a licensed veterinarian in the Animal and Imaging Core Facility at DDI. She actively engages in numerous research activities, including injections, gavaging, blood withdrawals, glucose and insulin tolerance testing, tissue collection, organ sampling, euthanasia, special interventions, survival/non-survival surgeries, postoperative veterinary care, monitoring signs of pain and distress, clippings for genotyping, setting up cages, and calibrating the calorimetric system for metabolic research in mice.
Of note, Dr. Nermeen has invested tremendous effort and dedication in establishing and maintaining the Zebrafish platform. Her contributions include organizing standard aquaculture and nutrition strategies, as well as overseeing the crossing and maintenance of wild-type and transgenic fish lines. Additionally, she coordinates activities such as egg collections for purging or research injections, specific feeding and maintenance of larvae, sorting of larvae, adult fish fin clippings for genotyping, and blood and tissue collection, among others. As a senior veterinarian in the animal facility, Dr. Nermeen also goes to great lengths while training and guiding new animal research staff and technicians as well as the visiting summer interns at the DDI per their peculiar research needs and interests.
Recently, Dr. Nermeen had the opportunity to undergo advanced-level overseas training in insulin/glucose clamping and catheterization techniques in rodents. This specialized training equips her with the skills needed for precise monitoring and manipulation of glucose and insulin levels in research animals, particularly for studying metabolic disorders and diabetes pathophysiology.