DDI Animal Facility Can Tailor Your Research
Published on 03/07/2023
DDI's Animal and Imaging Core Facility is a dedicated research and experimental animal facility that provides exceptional animal husbandry and veterinary care to the experimental rodent stocks and zebrafish lines housed at the facility. It ensures that DDI scientists have access to all necessary facilities, assistance, and support for their experiments while prioritizing the well-being and welfare of mice, rats, and zebrafish.
The facility is under the leadership of Dr. Ashraf Al Madhoun, with a team consisting of Dr. Sardar Sindhu as the facility manager, Dr. Nermeen Abukhalaf as the senior veterinarian, and Abdul Rafeei as the animal facility technician. Our staff members possess professional expertise, skills, and training that enable them to create ideal research conditions. Additionally, they offer vital support and instruction on specialized techniques and procedures, tailoring them to the unique needs and preferences of researchers.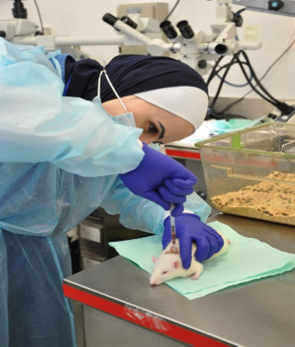 The Animal Facility accommodates diverse research projects from all DDI research departments. Through hypothesis-based experiments and key investigations, the departments bring their expertise and unique perspectives to explore critical aspects of cutting-edge research in obesity, diabetes, and related metabolic disorders. Their contributions provide valuable insights that deepen our understanding of this complex disease and aid in the development of novel treatments and prevention strategies. Our facility serves as a collaborative research hub, accommodating projects from various departments within the institute. Here are some noteworthy ongoing projects:
Project: "Impact of drug treatment using GLP1/GIP1 agonist vs Bariatric Surgery on insulin signaling, insulin resistance, and lipid metabolism."
Project: "The Role of HSP40 Proteins in Obesity and Diabetes and its Clinical Implications."
Project: "Targeting neuroimmune cross-talk in insulin resistance, energy homeostasis, and metabolic dysfunction-associated fatty liver disease."
Project: "Free fatty acids-mediated epigenetic landscape priming as a key regulatory mechanism involved in inflammation and insulin resistance."
Project: "Study the role of TLR4/TNF-α signaling axis in sensing nutrients leading to inflammation/insulin resistance."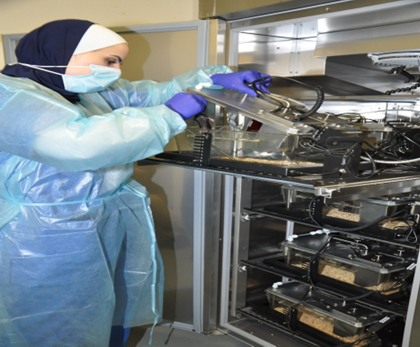 Dr. Nermeen said: "At DDI's Animal Facility, we perform a wide range of surgical procedures to support diabetes research, including both survival and non-survival surgeries, postoperative care, various types of catheterizations, and special interventions tailored to each research project's specific requirements. We adhere to state-of-the-art techniques and follow national and international guidelines to ensure the highest ethical standards of animal care and welfare, thereby guaranteeing the success of all the conducted animal model research. Additionally, we provide training to biomedical interns regarding basic animal handling skills and interventions as part of the annual summer internship program at DDI".
The animal facility is now equipped with calorimetric cages for conducting research on energy expenditure and metabolic regulation in innovative mouse models of obesity and diabetes. This platform provides a controlled and quantifiable metabolic environment for investigating the interplay between genetics, epigenetics, diets, physical activity, and energy balance.
Furthermore, the team is establishing clamping techniques in rodents as insulin resistance is a hallmark of type 2 diabetes. Clamping serves as the "gold standard" for assessing insulin sensitivity, glucose turnover, and β-cell function in vivo. Hyperinsulinemic-euglycemic clamps are performed in mice and rats to measure whole-body insulin sensitivity, tissue-specific glucose uptake, and hepatic glucose production.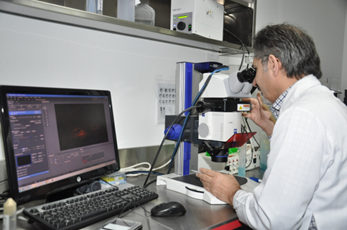 Dr. Ashraf elaborated: "We are developing a tissue-specific knockout mice pipeline through in-house breeding strategies using the Cre-loxP system and in collaboration with our overseas research collaborators and experts. Additionally, we are recovering Cre transgenic mice from cryopreserved sperm using in vitro fertilization methods. Similarly, we utilize the CRISPR-Cas9 approach to develop and establish pure fish lines lacking the expression of genes of interest. Additionally, we are working on developing humanized models of transgenic fish lines for critical immune metabolic and stress pathway genes".
It is noteworthy that zebrafish presents an attractive proposition for cutting-edge scientific research in obesity and diabetes due to its common genetic underpinnings with other vertebrates. Zebrafish shares over 70% ortholog homology with humans, has a shorter generation time than rodents, and offers ease and versatility in different research aspects. These include mutant identification, altered function studies through protein knockdown and overexpression, chimeric embryos, microarray analysis, as well as the option of high-throughput screening for genetic and chemical modifiers of immunometabolic phenotypes, all at economical costs.