DDI Launches a New Study The Kuwait Adult Diabetes Epidemiological Multidisciplinary or KADEM
Published on 03/10/2023
The KADEM study is a continuation of the Kuwait Diabetes Epidemiology Program (KDEP), which has successfully created a comprehensive research dataset on the Kuwaiti population. With a collection of clinical, genetic, immunological, physiological, biochemical, and environmental data, the study has provided a detailed characterization, making it a valuable resource for understanding the prevalence and risk factors of diabetes in Kuwait. The information gathered will aid in developing more effective prevention and treatment strategies, ultimately improving the population's health outcomes. This valuable information can also serve as a foundation for crafting effective prevention programs and pursuing further research to address these critical health concerns. By identifying the root causes and implementing targeted interventions, we can strive towards a healthier and brighter future for all. Supporting efforts to implement comprehensive health promotion programs is absolutely crucial in preventing and managing diabetes. Investing in these initiatives and working together can make a difference in the lives of those affected by this condition.
The rationale of the KADEM program
The aim of the study is to recall all participants (non-diabetic) from the KDEP study to evaluate the incidence of prediabetes and new-onset type 2 diabetes mellitus (T2DM). Also, it will determine the incidence of microvascular and macrovascular complications among the subjects who are prediabetic or converted to T2DM compared to those normoglycemic patients. Moreover, the study also will evaluate the biochemical and molecular factors that drive the development of T2DM and its associated micro/macrovascular complications.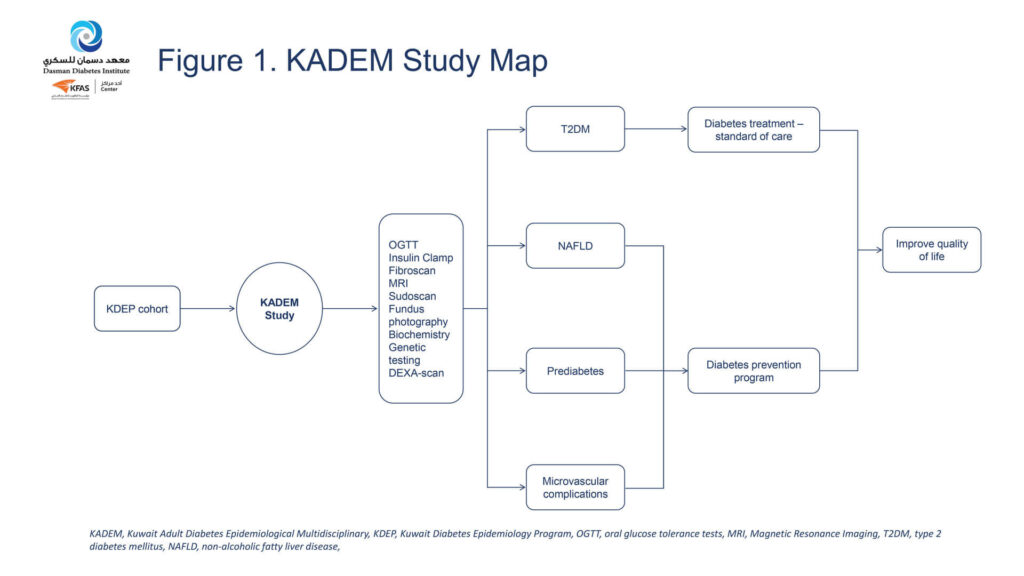 Objectives of the KADEM study
The objectives of the KADEM study encompass several key aspects: firstly, to determine the 4 to 7 years incidence rate of T2DM within the KDEP cohort based on the ADA diagnostic criteria. Additionally, the study aims to ascertain the incidence rates of both microvascular and macrovascular complications among individuals with prediabetes and those who develop new-onset diabetes within the cohort. Furthermore, the study seeks to pinpoint the metabolic, biochemical, and molecular factors associated with the onset of diabetes and its accompanying vascular complications in the KDEP cohort. This comprehensive approach also involves calculating the incidence rates of prediabetes and overt T2DM, along with microvascular and macrovascular diabetes complications. Beyond assessment, the study endeavors to develop a predictive model for diabetes and its associated complications, while simultaneously establishing a diabetes prevention program tailored to those at risk of developing this condition.