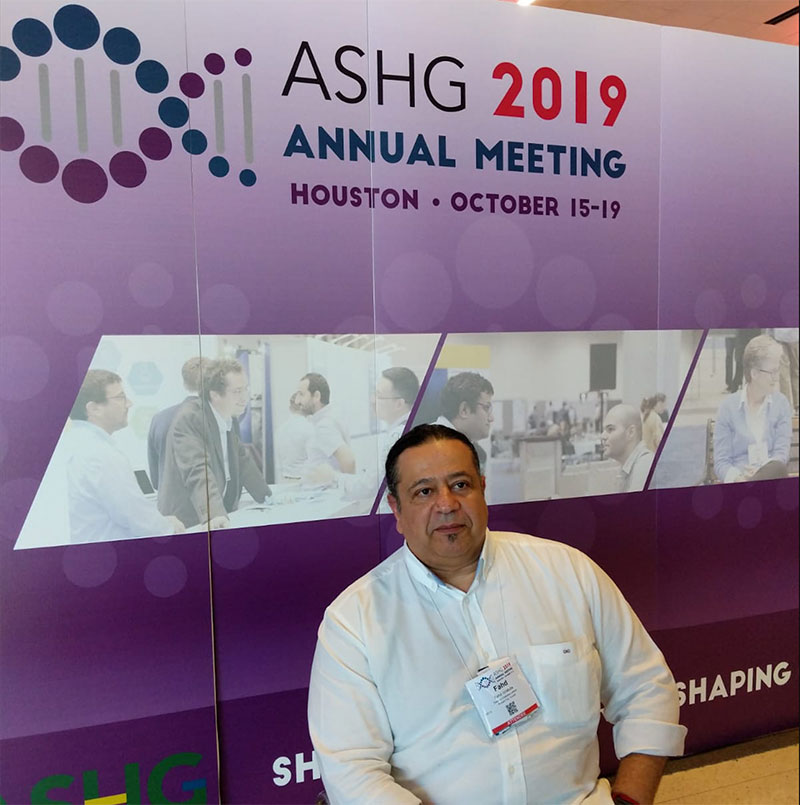 Scientists from Dasman Diabetes Institute Presented Genetics Findings at the American Society for Human Genetics Conference in Houston, USA
Published on 20/10/2019
Dasman Diabetes Institute, founded by Kuwait Foundation for the Advancement of Sciences, has recently participated at the American Society for Human Genetics' (ASHG) 69th Annual Conference in Houston (Texas), USA during 15-19 October 2019. The ASHG Annual Meeting is the largest human genetics meeting with an attendance of over 7,000 participants. The meeting provided a forum for the presentation and discussion of cutting-edge science in all areas of human genetics.
During the conference, ASHG presented a specialized video, which showcased the advanced personalized medicine work done at Dasman Diabetes Institute to all attendees of this major conference.
The Genetics & Bioinformatics team from the Institute presented 4 abstracts at the conference based on their work on defining the genetic components behind metabolic illnesses (such as obesity, diabetes and related complications) in Kuwaiti population. Prof Fahd Al-Mulla, Dr. Alphonse Thanaraj Thangavel and Ms. Sumi John represented the Institute at the conference.
The Genetics and Bioinformatics team, led by Prof Fahd Al-Mulla, The Chief Scientific Officer at Dasman Diabetes Institute, translates genes found in Kuwaiti populations that are associated with characteristics relating to the metabolic disorders. In order to achieve this, they collect DNA from people with metabolic illnesses and record the characteristics and their values. The genetic sequences are recorded, and sophisticated techniques are applied to identify the areas that associate with metabolic disorders; such areas that show different characteristics among individuals depending on their risks for metabolic illnesses.
The team has recently identified genomic landscapes that may cause these metabolic disorders. These findings have been published in four different research articles that were shared at the conference.