New Immunophenotypic Profiling helps identifying T2D patients at risk of severe COVID-19
Published on 01/07/2022
This study was a collaboration between Sorbonne Université and the Public Hospitals of Paris (Assistance Publique – Hôpitaux de Paris, AP-HP). It investigated the characteristics of immune cells in hospitalized patients, with or without type-2 diabetes T2D, who required either conventional or intensive care.
In 2020, the COVID-19 pandemic caused a global emergency, and the management of patients with comorbidities was one of the most challenging tasks.
From early on, age, obesity, and hypertension— common factors associated with T2D— were considered as risk factors for severe disease and mortality, putting patients with T2D at risk. The results of previous studies have led to the hypothesis that intensified immunoinflammatory states in patients with T2D and COVID-19 could be a reason why T2D patients are prone to severe COVID-19 infection.
The earliest reports on severity of COVID-19 infections found that variation in the number of lymphocytes was indicative of risk in multiple patient groups. In regard to T2D, risk indicators focused on metabolic factors and known clinical criteria, such as HbA1c or C-reactive protein. In the present study, researchers hypothesized that, like variations in lymphocytes in other patient groups, patients with T2D might also present an immune-related marker that indicates their specific risk for severe disease.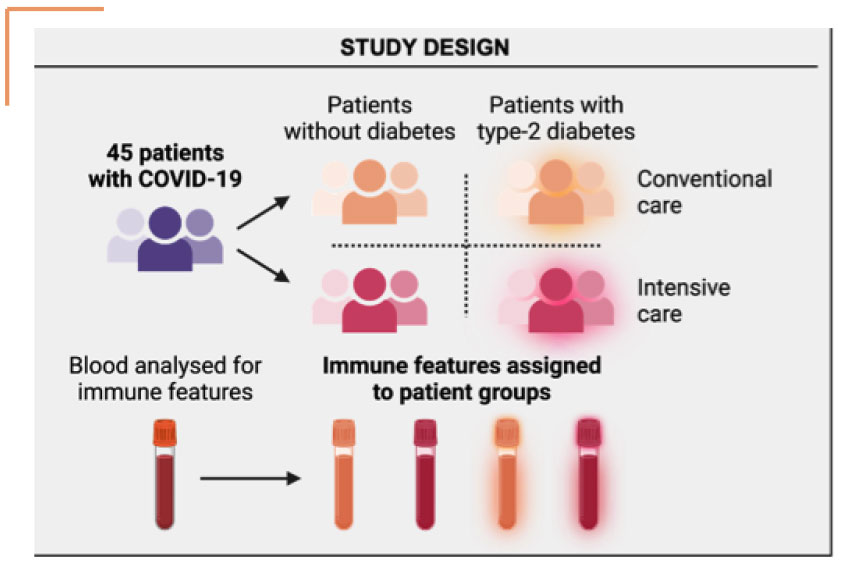 Dr. Alzaid and his team classified patients according to their diabetic status and severity of COVID-19, i.e., whether they required conventional or intensive care. They carried out broad-spectrum immunophenotyping of 15 leucocyte populations and subpopulations in patients suffering from COVID-19, with or without T2D, to evaluate changes associated with diabetic status and disease severity.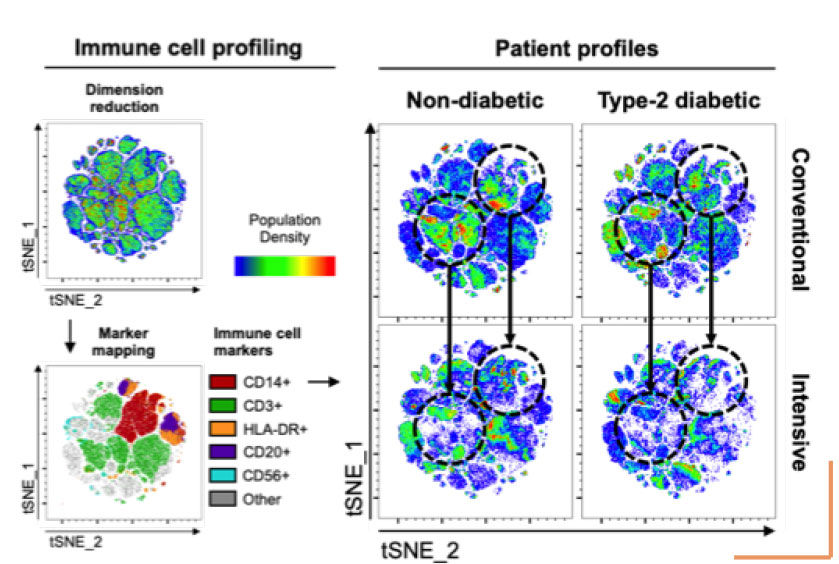 Similar to previous reports, Dr. Alzaid and colleagues found that lymphocytopenia and the specific loss of CD8+ T cells was characteristic of disease severity and intensive care in both diabetic and non-diabetic populations. Additionally, this team made an astonishing discovery: monocytopenia, accompanied by morphological alterations (increased monocyte size) and a hyperinflammatory profile, was characteristic of severe COVID-19 in patients with pre-existing T2D requiring intensive care. Lastly, this report, in alignment with recent articles, highlights how IRF5-linked hyperinflammation contributes towards the cytokine storm syndrome, which is also characteristic of severe COVID-19.
This study by Dr. Alzaid et al. provides great potential for future translational and clinical research. The study presents a snapshot describing how cell types change under a given condition and future work could potentially predict markers of disease severity. Future studies could also validate the predictive power of our findings, leading to a more adapted management strategy for patients with T2D identified as at-risk of developing severe disease. The cell type discovered to be variable in patients with severe disease could also be studied further as a target for therapeutic intervention. Another important aspect to consider is the generalizability of these findings, i.e., whether or not these features can be indicative of severity in other infections, providing a strong foundation and a huge scope for research moving forward.
This work is published in EMBO Molecular Medicine:
Alzaid, Julla et al 2020. Monocytopenia, monocyte morphological anomalies and hyperinflammation characterise severe COVID‐19 in type-2 diabetes. EMBO Mol Med (2020)12:e13038 I https://doi.org/10.15252/emmm.202013038
For Researchers
---