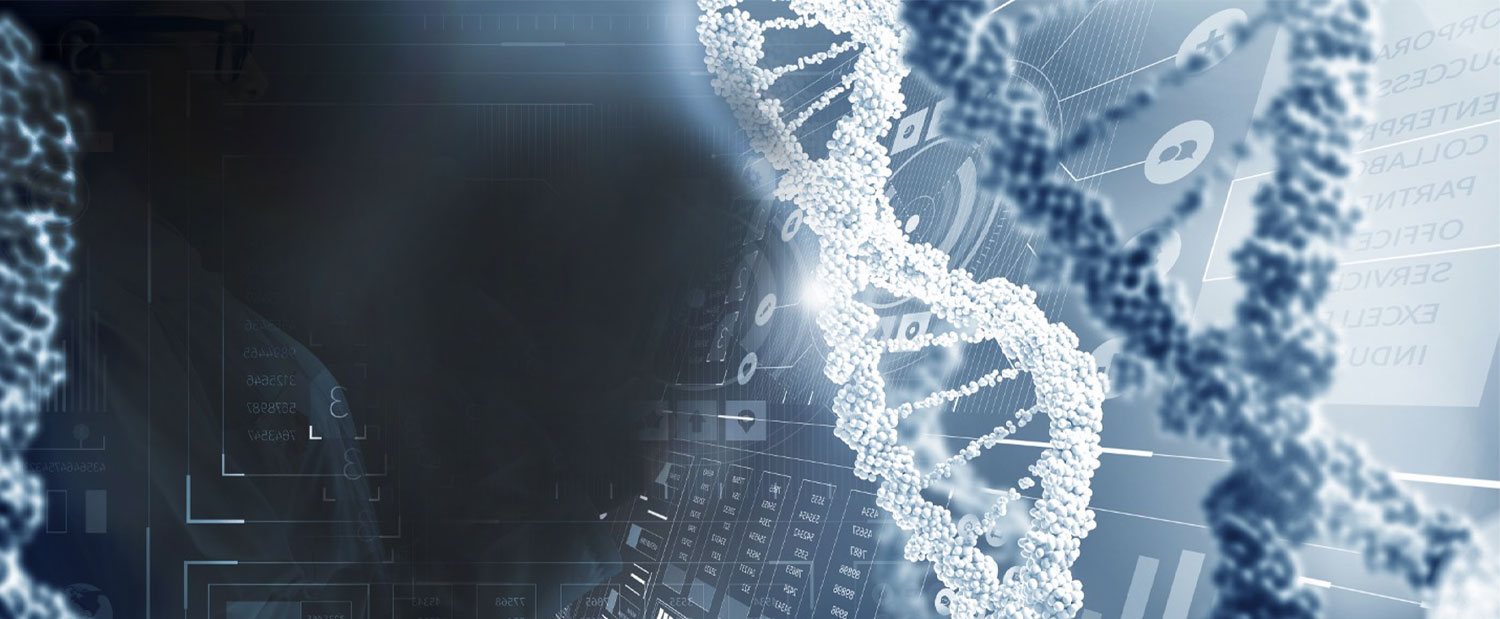 GENETICS AND BIOINFORMATICS
In this issue of the newsletter, we highlight the research being carried out at the Department of Genetics and Bioinformatics, led by Prof. Fahd Al-Mulla, at DDI.
MEET THE TEAM
Meet the scientists behind DDI's research
Meet the scientists behind DDI's research
Published on 01/08/2019
MR. ARSHAD M CHANNANATH
Arshad Mohammad Channanath has a master's degree in bioinformatics and an advanced diploma in software engineering. His expertise includes analyzing and interpreting large datasets, developing new forecasting models, and performing data management tasks. He has developed region-specific prognostic tools for diabetes. He is involved in the Comprehensive Perl Archive Network (CPAN) open source community.
MR. PRASHANTHA HEBBAR
Prashantha Hebbar has a master's degree in Bioinformatics. His work in DDI is mainly focused on the genetics of metabolic disease using genome-wide SNP data. In the past, he contributed to establish an association between Leptin-mediated hypertension and Kuwaiti individuals carrying MC3R variants, and to delineate genetic substructure of Kuwaiti Arab population. His research findings on implicating genome-wide genetic variants for Obesity, Diabetes and Lipid traits are published in international peer-reviewed journals. He is currently working on identifying genetic contributions of runs of homozygosity (ROH) and copy number variation (CNV) to metabolic diseases.
MS. SUMI ELSA JOHN
Sumi E John graduated with an MRes degree in Bioinformatics and Computational Biology from the University of Leeds, UK. Her areas of expertise include handling and analysis of Next Generation Sequencing data, in particular Whole-Genome, -Exome and RNA-seq data. To evaluate genomics data, she has developed pipelines for the functional annotation and identification of disease-specific variants. Her current research interests include analysis of Runs of Homozygosity regions in exomes that characterizes consanguineous nature of Arab populations and exploring pharmacogenomics of genetic variants specific to Arab ethnicity. She works closely with scientists in other research departments, analyzing their data and interpreting results.
DR. EAASWAR MUTHUKRISHNA
Eaaswarkhanth Muthukrishnan has a PhD in Molecular Population Genetics and received training in computational genomics and genetic epidemiology from the State University of New York at Buffalo and New York State Department of Health (USA), respectively. As mitochondrial diabetes group leader, he is involved in a major project to study mitochondrial genome backgrounds in diabetes and associated complications in Kuwait population. At present, in collaboration with Institute of Genomics (Estonia), he is investigating genomic variations and its impact to differential metabolic health risks in Kuwait population. He is also working on a pilot study characterizing salivary microbiome of Kuwaiti children.
DR. MOHAMMED DASHTI
Mohammad Dashti has a PhD in Genetics, Genomics and System medicine (Genetics and Bioinformatics) and received his training at BHF Glasgow Cardiovascular Research Centre and Imperial College London, U.K. As a scientist, he elucidates the genetic determinants of complex and monogenic disorders using multi-omics approach from human and animal studies. In collaboration with Kuwait University, he investigates the genetic causatives of Multiple sclerosis. Currently, his research focus on the genetic associations between diabetes, obesity, and hypertension compared to healthy individuals.
DR. ALPHONSE THANARAJ THANGAVEL
Alphonse Thanaraj Thangavel holds a PhD in Bioinformatics and have many years of work experience in the domains of Diabetes research (genetics/genomics and epidemiology), Computational Biology & Genome Informatics and Health Informatics. He has been employed in prestigious institutions that include European Molecular Biology Laboratory (Germany), European Bioinformatics Institute (United Kingdom), Centre for Cellular and Molecular Biology (India) and Indian Institute of Science (India). He is a recipient of research fellowships and grants from prestigious organizations such as International Human Frontier Science Program (Secretariat at Strasbourg), the European Commission (Secretariat at Brussels), and Government of India's Department of Biotechnology.