Meet the Scientist – Maha Hammad
Published on 29/09/2021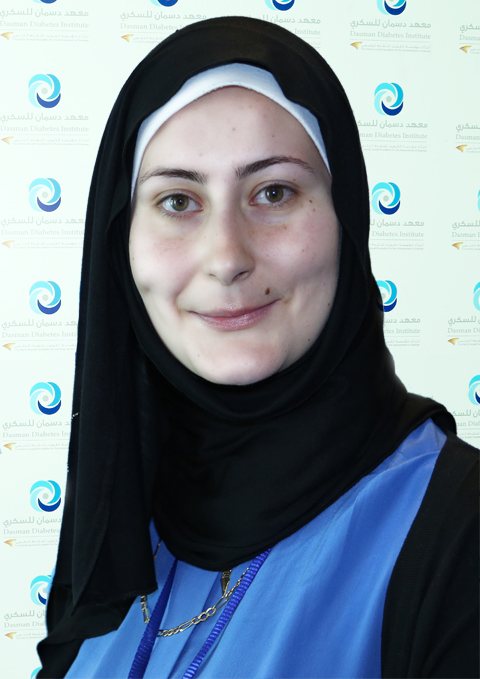 MAHA HAMMAD
Meet the scientists behind DDI's research
MAHA HAMMAD graduated from Kuwait University with a BSc in Biochemistry and Molecular Biology (Distinction with Class Honours). She pursued her graduate studies in Canada. She obtained an MSc degree in Pharmacology from Dalhousie University and a PhD degree in Physiology and Pharmacology from the University of Western Ontario. Her PhD was funded by one of Canada's most prestigious doctoral awards (The Banting and Best Graduate Scholarship) from the Canadian Institute of Health Research and her application was ranked among the top 4% PhD applications.
She published 6 articles and a book chapter during her graduate studies. Maha worked as a research assistant at DDI between her MSc and PhD for 2 years in 2010 and contributed to the establishment of the research laboratories in the institute and the publication of 3 of the first papers published by the Biochemistry and Molecular Biology Department. Maha re-joined DDI in November 2016 this time as a postdoctoral fellow. She has since published 9 articles working on several projects and collaborating with various authors.
Her main research interest is the group of G Protein-Coupled Receptors (GPCRs) which represents the target for around 50% of drugs currently on the market including Victoza and Saxenda. She believes that understanding GPCRs is critical for improving drug discovery whether by determining the ligands that bind a receptor or identifying the proteins that regulate such interactions and hence the physiological function of the receptor. On the long term, such research will help produce better medications with enhanced efficiency and fewer side effects. She received funding from KFAS in 2018 for her project on the role of MC4R in obesity and insulin resistance. In 2020, an MC4R agonist called Imcivree was approved by FDA as a drug for weight management. In addition to the manuscript featured in this newsletter on the genetics of MC4R in the Kuwaiti population, she is currently working on 2 more stories that highlight the cellular and structural aspects in regulating MC4R function by this newly approved drug.