Obesity is the result of chronic energy imbalance that puts patients at high-risk of type-2 diabetes (T2D) and of its complications and comorbidities. The diabetic context itself drastically alters metabolism at multiple scales, from subcellular and cellular to microenvironmental, in different organs, and systemic, in the whole body. Energy imbalance and altered metabolism at different levels are central to progression of disease and may influence susceptibility to specific complications or comorbidities. The developing research axis for Bioenergetics at the DDI is focused on the functional and mechanistic study of metabolism and energy balance at multiple levels.
Develop technical standards to address questions in bioenergetics and metabolism research
Investigate the way that cellular and tissue metabolism adapts to and affects development of diabetes
Discover novel targetable mechanisms to alter the course of metabolic decline in diabetes
Carry out leading edge research in the field of bioenergetics and metabolism
Develop a central and durable structure for technical and scientific needs in the field
Provide training opportunities for up-and-coming scientists in the field
The Bioenergetics & Neurometabolism department proposes two core projects:
Decipher the mechanisms that control tissue metabolic function in insulin resistance; and
Investigate the influence of metabolically active agents in controlling disease progression.
Inter-sector and inter-department projects address areas of common interest, for example the function of mitochondrial DNA variants or structural proteins in controlling energy balance. Translational projects with the Medical Sector will address clinically relevant questions, relating to drug mechanisms, lifestyle interventions and rare forms of diabetes.
Close interaction with clinicians and working from data generated in studies of local populations ensures relevance of this work to the population it serves. Specific environmental, lifestyle or genetic factors that influence energy balance and metabolic phenotype may explain, at least in part, the high prevalence of diabetes in the region.
Orliaguet et al 2022 Nat Comms
Early response to obesity encompasses IRF5-regulated mitochondrial architecture remodelling
Mitochondria, the powerhouse of the cell, provide energy for basic functions of different cell types in the body. When energy requirements fluctuate, mitochondria adapt to meet changing needs. In this work by Dr. Alzaid's group at INSERM, Orliaguet et al discovered how mitochondrial structure is modified in specialized immune cells that promote inflammation and lead to the development of insulin resistance in obesity. A focus on the early stages of obesity showed that immune cells adapt their energetic processes before insulin resistance develops. This provides a new targetable mechanism early in the course of disease that may improve long-term outcomes. This work by Orliaguet et al was published online in Nature Communications in August 2022.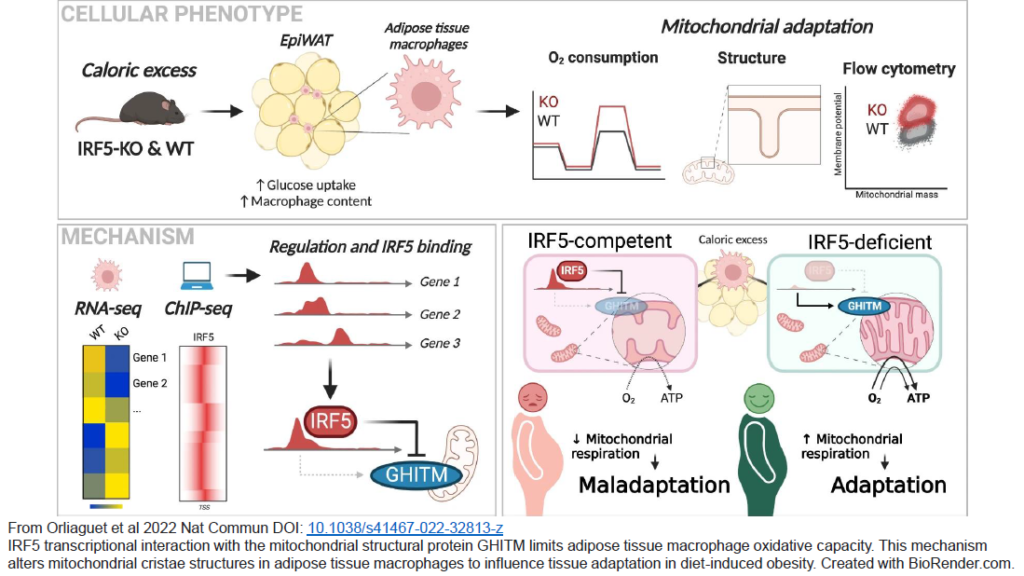 Thibaut et al 2022 FEBS Journal (featured on cover)
Liver macrophages and inflammation in physiology and physiopathology of non-alcoholic fatty liver disease
A state-of-the-art review was contributed to The FEBS Journal by Dr. Alzaid's INSERM group. They discuss the roles of specialized immune cells known as macrophages in the normal function of the liver and in the development of non-alcoholic fatty liver disease, a common comorbidity of obesity and type-2 diabetes. This review was published online in 2021 and featured on the cover of June 2022 issue of The FEBS Journal.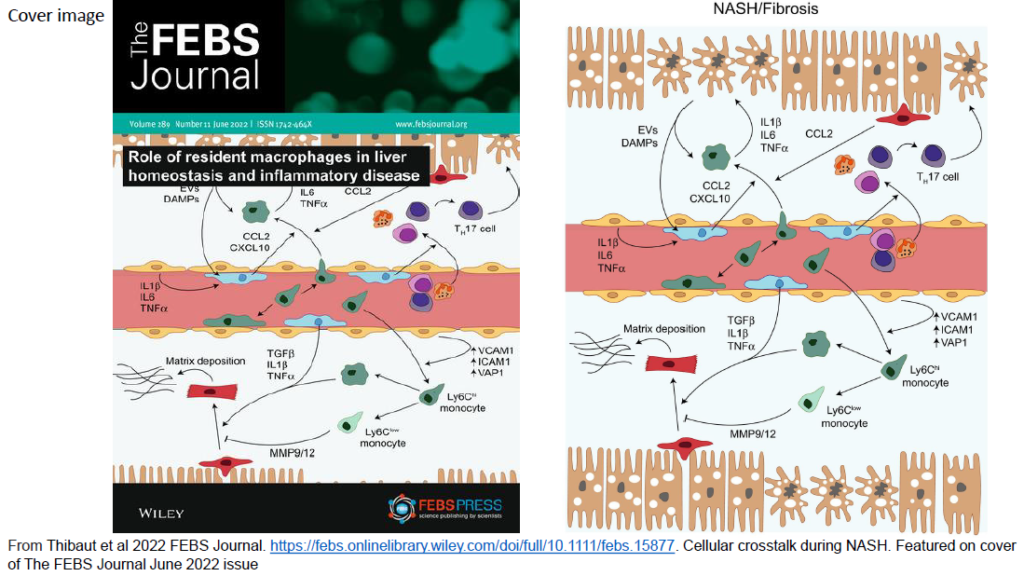 Thibaut et al 2022 Front Immunol
Perspective on direction of control: Cellular metabolism and macrophage polarization
Inflammation forms a part of every human disease, including diabetes. Inflammation is caused by activation of specialized immune cells known as macrophages. In this work from Dr. Alzaid's group at INSERM (Paris, France), Thibaut et al describe how the use of metabolic inhibitors can influence macrophage function. This work shows that metabolic inhibitors strongly influence macrophages and the pathways they control can form parts of novel therapeutic targets in diabetes and other inflammatory conditions.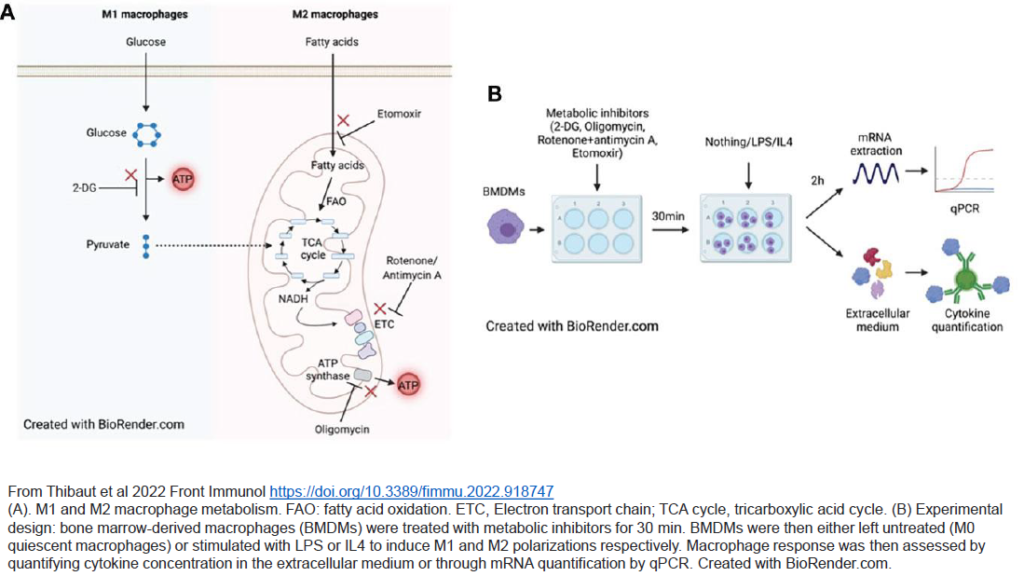 Authorisation to Direct Research (Habilitation à Diriger des Recherches) diploma awarded from Sorbonne Université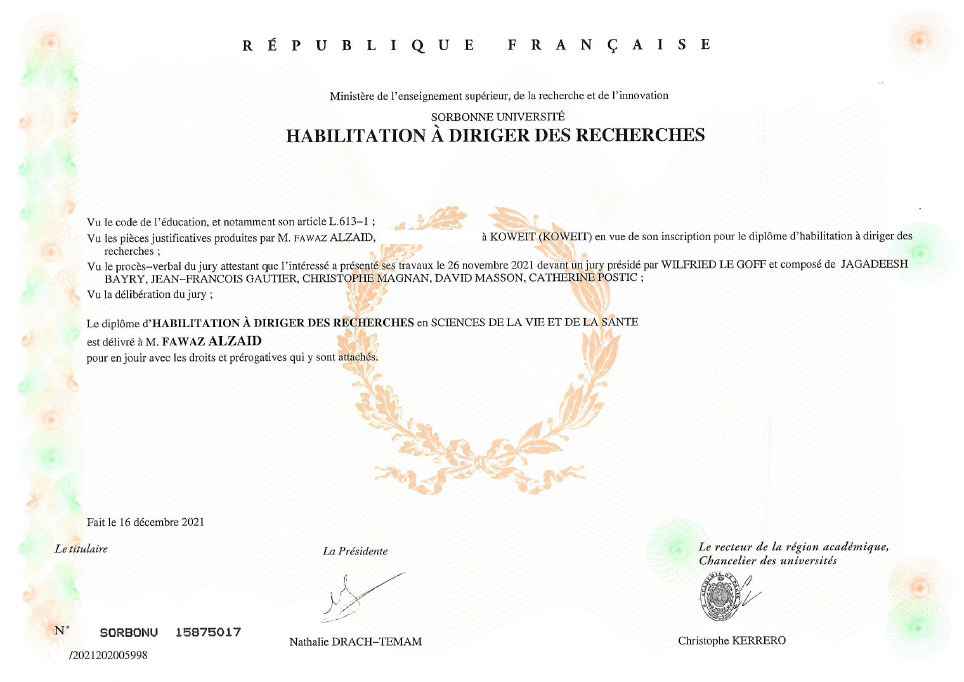 Dr. Alzaid was awarded an HDR in Life Sciences and Health from Sorbonne Université's Faculty of Sciences for his thesis entitled "Innate immune bioenergetics in metabolic diseases" [La Bioénergétique des Réponses de l'immunité innée dans les maladies métaboliques].
---
More about Bioenergetics & Neurometabolism…

Meet the Scientist: Dr. Fawaz Alzaid
Dr. Fawaz Alzaid is a senior scientist appointed to develop this work and brings a proven track-record in producing high-impact research in the field.

DDI announces Bioenergetics Department
Energy imbalance affects the body's metabolism in various ways, from causing weight gain to altering cellular and tissue functions.
---
Take a Tour!